20+ Years in Business
30+ Field Managers
Servicing the Greater Atlanta Area
20+ Years in Business
30+ Field Managers
Servicing the Greater Atlanta Area
20+ Years in Business
30+ Field Managers
Servicing the Greater Atlanta Area
20+ Years in Business
30+ Field Managers
Servicing the Greater Atlanta Area
20+ Years in Business
30+ Field Managers
Servicing the Greater Atlanta Area
20+ Years in Business
30+ Field Managers
Servicing the Greater Atlanta Area
Atlanta, GA
High-Quality Roofing Services In Atlanta, GA
Welcome to your local provider of comprehensive roofing services. Southern Exteriors offers highly-rated roofing and siding contractors near Atlanta, GA. We strive to deliver the best service to both residential and commercial property owners.
Your Trusted Roofing Contractors Near Atlanta, GA
Trust your project to the right roofing contractors near Atlanta, GA if you want a roof that is going to last and hold up against Georgia weather. Our team of certified roofers near Atlanta, GA is committed to excellence. Whether you need a small roof repair near Atlanta, GA, or a complete roof replacement, we have the expertise to get the job done right.
Comprehensive Roofing and Siding Services
We proudly hold a top spot among roofing and siding companies near Atlanta, GA. We recognize the significance of your home's exterior in safeguarding it from weather conditions and upholding its aesthetic appeal. For this reason, we provide a complete menu of siding services, such as installation, repair, and replacement.
Our services cover all aspects of exterior remodeling. We will work with you to find the materials and design that match your taste and finances, and we guarantee that we'll complete the job on schedule and within the allotted budget.
Choose Us for Your Next Project
If you are searching for roofing companies near Atlanta, GA, you can count on Southern Exteriors for high-quality work, customer satisfaction, and fair pricing. We strive to provide every customer with the best possible experience. Contact us today for a no-cost quote or to learn more about how we can help with your next roofing or siding project.

Need Help Deciding?
If you're unsure which type of roofing is the best choice for your home, contact Southern Exteriors. We are an experienced company that has been manufacturing and installing house roofing since 1982. We would be happy to sit down with you for a free consultation, during which we'll discuss the different types of house roofing and help you determine which meets your needs. CALL NOW to get started!
New Construction
Service Areas
Florida
Georgia
North Carolina
South Carolina
Tennessee
Alabama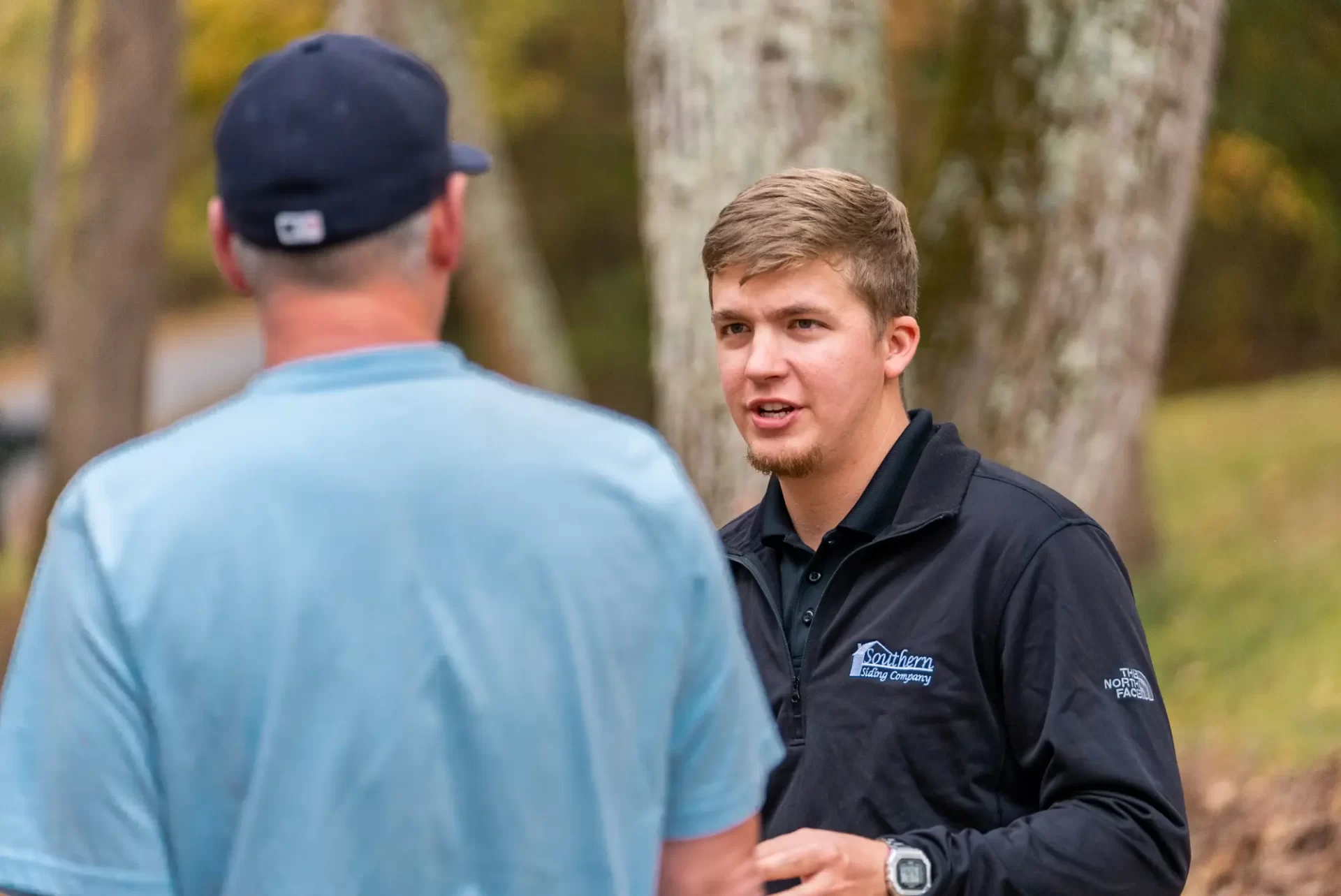 Our field reps work directly with you to manage the process from beginning to end. This helps ensure that communication is fluid and that nothing gets lost in the process. Because we have the capability of doing all of your home's exteriors, you can save time, money, and hassle by working with us. Our team prides itself on honest, transparent communication, and on making this process as seamless as it can be for our clients.
Have a question, or interested in a free no-obligation quote? Simply fill out the form below and someone from our team will reach out to you!
What is Hardie board siding made of?
Hardie board siding is made from cement which is combined with sand, water, and cellulose wood fibers. This helps to create a material that protects and amplifies the beauty of the home. Hardie board is often referred to as fiber cement siding. Hardie boards are a great, environmentally friendly choice that brings a wood-like appearance to any home.
Can Hardie siding be painted?
Yes, the majority of homes built with Hardie Board are painted. In fact, painting Hardie board siding significantly improves the look and life of the material. Some homeowners choose to paint their Hardie siding themselves. However, we suggest hiring professionals who have the experience, knowledge, and necessary tools at hand to paint your Hardie siding.
Should I choose a tin roof or shingles?
In short, both are a great option depending on personal preference and cost. Tin roofs typically last longer, while shingles are typically the more economical option.
What is LeafBlaster Pro and how does it help my gutters?
LeafBlaster pro uses the thickest stainless steel wire mesh and strongest aluminum support frame of any gutter guard on the market today. This helps eliminate pine needles, bugs, roof grit and leaves from your gutters to eliminate buildup.